So, I just thought that this would be a fun project for me to do. Anyway so, welcome to a little topic i've decided to do about the interesting and complex history surrounding Dubailand and what happened to it. Each post will explain the history surrounding each project that went on during its life, what went wrong, its possible future and what it was to include. I've decided to do it because this whole area interests me and i'd like to know more and take you guys along for the journey.
So the first project im going to talk about isn't a park, but the WHOLE of Dubailand itself. Each park will have a separate post, this one is just about the area.
Introduction
Dubailand was announced on October 23, 2003 and was part of a vision buy the Emir (basically the king) of Dubai, Sheikh Mohammed bin Rashid Al Maktoum. It was stated that "Dubailand is a tourism, real estate, hospitality, entertainment, leisure and retail mega project under development in Dubai, United Arab Emirates. It will cover an area of 3 billion square feet and its initial infrastructure will be built at a cost of AED 3 billion (£659,376,265). The Dubailand themepark area will contain 45 mega projects and over 200 sub projects, making it the most ambitious tourist destination ever created. Dubai land is being created to appeal to the widest audience of tourists, covering all age groups, nationalities and activities. On completion, Dubailand will be twice the size of Walt Disney World Resort in Florida, making it the biggest theme/amusement park resort in the world. Dubailand is being built in 4 phases, each of which will last for 5 years. The first phase of development, from 2005 to 2010, will include the development of initial roads and infrastructure. This will follow with concentrating on the unique leisure and entertainment products until its completed in 2020."
The various projects being built in Dubailand would have been categorized into six themed zones, each which focus on a different aspect of the Dubailand experience, these would have been:
Attractions World - Would feature a critical mass of themed and large-scale attractions
Experience World - encourage the growth of visits to other attractions within the world
Sports World - Would include a mix of sporting venues that will incorporate a dynamic program of international rugby, cricket and other sports tournaments as well as extreme sports activities.
Eco-Tourism World - Would comprise a series of nature and desert-based attractions
Themed Leisure/Vacation World - An area with lots of resorts
Entertainment World - Would be a mixed destination offering a variety of retail, dining and entertainment facilities.
So what happened?
Well, construction did start on some of the projects going on inside the area, the first thing that got completed was the Dubailand sales office:
Inside this building was a large model on what the area would look like when completed, and its pretty cool looking: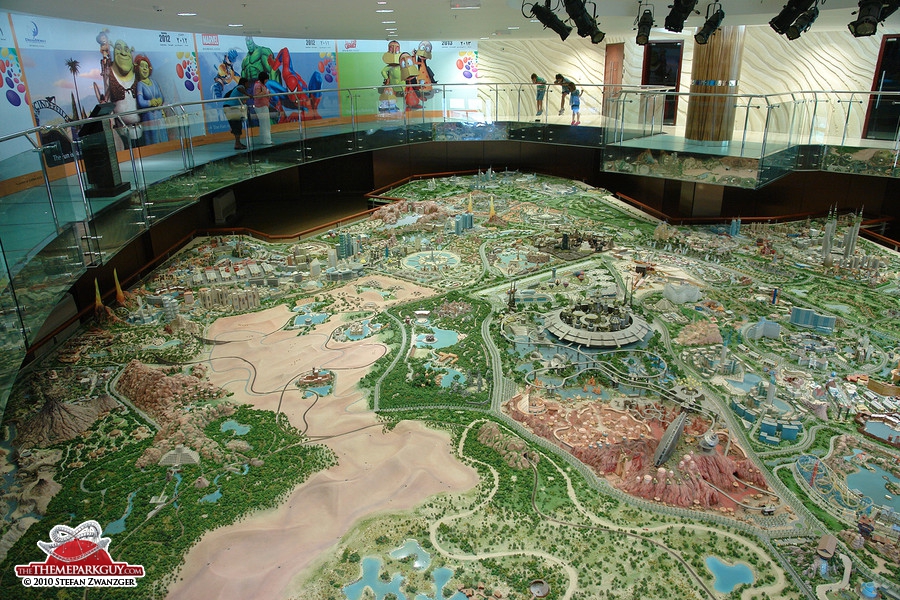 After this planning permission was granted to start on many of the projects, these included themeparks, shopping malls, hotels, housing areas and golf courses. Most of these started construction and only a few got finished. However soon things started to go wrong...
Due to the Global financial crisis of 2008–2009, several mega projects in the area had been put on hold, including Dubailand, this came at a bad time, as lots of money had already been spent preparing for it. Only for it to end with no end result. As a result of it virtually all of the staff and workforce were fired, with people leaving the city rapidly.
Yet despite this, some projects continued to be made, some new ones even got announced (most of which didn't happen) and at this point, Dubai Properties Group took over Dubailand from Tatweer (the previous owners), resulting in some companies such as Six Flags, dropping out of the area.
So whats it like now?
Well, even though the theme parks never saw the light of day, the project still is going on. Some land had to be sold, just to stay alive, but the area is still massive. What did see the light of day were various housing compounds, schools and a golf course. The only (sort of) parks that did get completed were Dubai Miracle Garden, which is like a large flower show, and Global Village, a yearly event which hosts venues dedicated to various countries (Epcot style) with various rides scattered about.
The only themeparks that did start construction were Restless Planet (only the groundwork slightly started, when stopped was demolished and is now the site of IMG Worlds of Adventure), F1-X Dubai (which stopped halfway through the making of it, the corpse of it still remains) and Universal Studios Dubai (Groundwork got completed, now remains empty in the desert). A park that although was never part of Dubailand, IMG Worlds of Adventure, did get completed and is in the Dubailand area and opened earlier this year.
The Future?
Well, Dubai has recovered faster from the financial crisis than most other countries and now its economy is growing in a higher rate than its counterparts because of its zero tax policy and economic free zones. Construction resumed in mid-2013 and updates in 2013 show that $55 billion has been raised towards the works. Current estimates predict that a lot of Dubailand will open before 2020, however this isn't necessarily themeparks.
Even though some projects moved to Dubai Parks and Resorts, Dubailand is silently making a comeback, while once an ambitious project it was just a case of concept not meeting reality and thats a shame.