I thought Id make a topic dedicated to where about and what happened to Alton's past rides. I have really always been snooping around finding out about the lost rides and where they went so thought id put them altogether. I have only really included the major rides that fully left the park and weren't rethemed over. Some I haven't found out yet so if anyone has any more information about anything here it would be amazing of you to share it.
Spaceboat [1983]
- Was removed after a few months and sold onto many parks including Dreamland, Pleasure Island and stayed at Loudoun Castle for a few years before the park closed. In 2011 it was sold to Lightwater Valley who opened it under the name "Black Pearl"
Magic Carpet [1984 - 1985]
- Sold on. It traveled the UK fairgrounds for a few years. Its now at M&D's still running at full force (There is even still a sign in one of the cabins with "ALTON TOWERS" on it)
(Image here)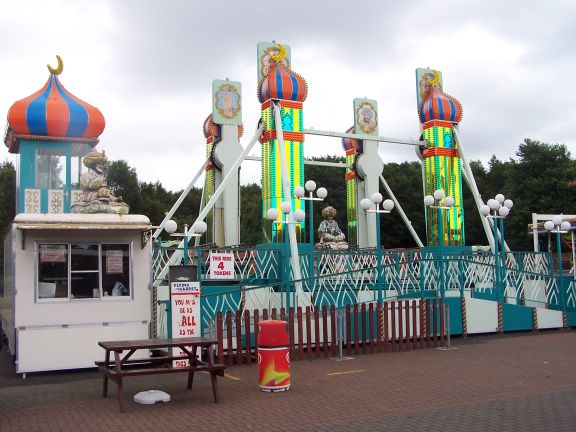 Cable Cars [1963 - 1986]
Presumed scrapped.
Alpine Bobsleigh [1980 - 1986]
Presumed Scrapped. I can recall a few years ago someone found two track sections in the woodland area and took photos.
Ferris Wheel [1985 - 1986]
Currently unknown
most likely sold on.
Planetarium [19?? - 1987]
Scrapped. The Projector itself is now part of the themeing in oblivion queue. Its the big black machine looking object in the circular building.
Turbo Star [1984 - 1989]
Currently unknown
I could be wrong but I believe it was the same one that appeared at Loudoun Castle. It was later removed.
4 Man Bob [1985 - 1990]
Before arriving at Alton this coaster was at Trentham during the 1970's. After serving its time at the towers it was sold onto many different parks including Pleasure Island in 1993, Flamingo Land in 1998 and Grove Land in 2001. It was then refurbished in 2003 before arriving at Loudoun castle in 2011 where it is has been SBNO since the park closed down. It is currently for sale on the ITAL International website.
Mississippi Showboat [1985 - 1991]
Currently unknown
Presumed scrapped. Some of it might have been recycled and used in the Haunted House.
Spider [1986 - 1991]
Currently unknown
Most Likely sold to a park. There is the same type of ride at Lightwater valley that opened in 2005 and there's also some Traveling ones in the UK and Europe so it would be very hard to track this.
Alton Mouse[1988 - 1991]
Sold to Idlewild & SoakZone in the USA where it lives inside a forest. It was the same orange colour until it was repainted black a few years ago.
Octopus [1984 - 1992]
Currently unknown
Most Likely sold to a park. Again, there is the same type of ride at Lightwater valley that opened in 2005 and there's also some Traveling ones in the UK and Europe so it would be very hard to track this.
Tri Star [1989 - 1992]
Sold to Dreamland then onto Pleasure Island and then New Pleasurewood Hills where it operates today under the name "Thunder Struck"
Gravitron [1990 - 1992]
Sold to Pleasure Island where it is today.
Doom & Sons [1981 - 1992]
Scrapped and rethemed. I recall it being mentioned some of the inside themeing was placed into the Haunted House.
1001 Nights [1984 - 1994]
Currently unknown
Most likely sold to a park or possibly sold to Europe where it traveled.
Park Railway [1953 - 1996]
Everything was pretty much Scrapped a few years after closure. the route was then used for the Haunted Hallow walkway. I'm pretty sure the Locomotives were preserved and are now running on a miniature railway somewhere. Can anyone Remember where?
Thunder Looper [1990 - 1996]
Sold to Hopi Hari in Brazil under the name "Katapul". In 2013 it was painted red and Blue received a superman theme and lost a few carriages.
Mini Apple [1982 - 1997]
Sold to Great Yarmouth Pleasure Beach.
Alton Beast/New Beast/ [1988 - 1997]
Sold to a park called Divertido in Mexico in the late 1990's. It was put into a tent very similar to the Black Hole's and called "Space Mountain". It was removed in 2004 and went into storage for 6 years (probably being refurbished) until 2010 when it showed up at Salitre Magico in Columbia. It is now painted green and grey and called "Tornado".
Swan Boats [1987 - 2003]
Boats were sold/donated to nearby places such as pubs and parks. I think there is some that have been left in the storage area and boneyards.
Astro Dancer/Dino Dancer/Dynamo [1993 - 2003]
Sold to Mondial (Others say Huss) who completely refurbished the entire ride. The only parts kept from the ride was the gondolas and the main ride base. It is now owned by showman Hoefnagels who travels it around Europe under the simple name "Break Dance 3"
Energizer/BoneShaker [1995 - 2003]
It was sold back to Mondial and that's pretty much all that's known. Probably became a parts donor or refurbished. There is a used Super Nova for sale on their website with the construction date as 1993 with a photo of the "Crazy Tiger" one in Denmark which was Built in 1990. Only one Super Nova was constructed in 1993 which is currently in the Netherlands. I do believe the one listed for sale on the website could be Boneshaker. For this to be true it must have been built in 1993 and not sold to Alton Towers until a year later where it was shipped over at the end of 1994.
Black Hole [1984 - 2005]
After being dismantlement it was Sold to Gerstlauer who refurbished everything and sold it to Furuvik in Sweden under the name "Rocket" in 2011. It was repainted red and blue and runs very well.
Corkscrew [1980 - 2008]
The trains were taken to Heide Park Resort in Germany to replace the old Arrow trains on "Big Loop". One of the carts was sold on ebay. The Corkscrews elements were preserved and put on display at Alton's entrance. The rest was either sold for scrap or used to create the Tree on Th13teen's station but this isn't known to be true or not.
Beastie [1983 - 2010]
UK showman Walter Murphy purchased the coaster and now travels it under the name "Dragon Challenge". It was last seen in Dubai along with his 2Xtreme Mondial Capriolo. Walter Murphy uploaded a video of it while Dubai and looks as if it needs a full refurbish as it has to be properly pushed out the station. Video can be viewed here:
https://www.youtube.com/watch?v=-IF0qpt9xGw
Bonus:
in 1994 Both Alton's Space Boat and Tri Star were at Pleasure Island and placed right next to each other, so in a way they were reunited (Even though they were in the park at different times).
(Image here)
And that's pretty much it so far. Ill post updates if anything shows up.