Ulster Adventure Park - RCT3
Posted: Sun Nov 16, 2014 7:28 pm
Hello there! From the guy that made that park, St. Adams Castle, brings you the sequel project for SAC, Ulster Adventure Park! I believe this is the first time that there has been a RCT theme park set in Northern Ireland, but also this has been a chance to really improve on my RCT skills, which have been admittedly have been quite rusty since I've taken a brake from it. But anyway, let's begin with this little storyline...
Spring 1992
For many years, Northern Ireland has been blighted with the religious problems and divides which has only dragged the name down of Northern Ireland to new lows, what can be done to throw off that image? In late 1990, a colourful 37 year Ulsterman by the name of Jimmy O'Neil, a rich entrepreneur, visited Scotland to the newly opened St. Adams Castle. After his visit in which he was amazed by the atmosphere and the escapism value of it, he then had the idea to build a theme park of some sort in Northern Ireland that wouldn't have such religious divides and that either Protestant and Catholic could enjoy together. Despite gaining a good backing from the Northern Irish Assembly who supported the idea, the funds weren't there for it and planning permission wasn't given to make a theme park in southern Belfast, an amusement park was the cheeper option. It would all have to be privately funded from O'Neil's own pockets. All seem lost until O'Neil found a large lake and surrounding area that was owned by his now deceased Uncle. Lough Raith.
The penny dropped. He was able to acquire the land in his uncle's will and was able to start bringing his dream to life. Not to mention with such wonderful views, how could he lose?
Spring 1993
A year after Lough Raith was decided upon, a selection of rides started to appear and new buildings were built up. A new name was chosen, Ulster Adventure Park and a new page in the history of Irish amusement parks was about to begin.
O'Neil always says that first impressions are important, and the entrance to the park is quite a sight to behold, but a park is nothing without it's rides and UAP's ride to be built was a Schwarzkopf Shuttle Loop coaster named 'Storm of Ulster'.
The ride itself is in fact a second hand ride that was brought over from the Untied States and is said to be one of the proper type coaster built sometime in the late 70's. Nonetheless, its installation fires a message to many cynics that the park is serious in what it attempts to do.
Shortly after 'Storm of Ulster' is built, another new roller coaster appears, a Vekoma Boomerang simply named 'Boomerang'.
Note other rides in the picture, an Enterprise flat ride on the left and a Merry-go-round in the background.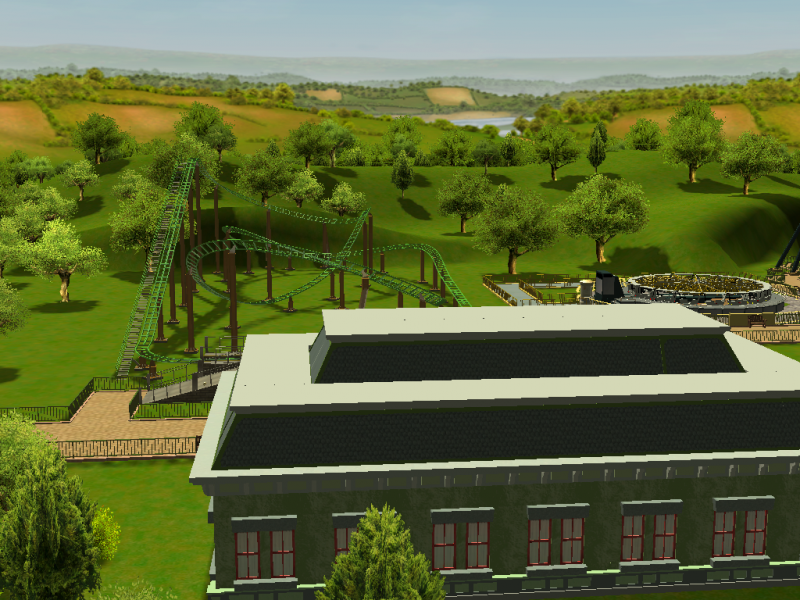 Another Vekoma ride is a Juniour Coaster simply named 'The Snake', and mainly for the not so brave riders.
The park from the air, will Northern Ireland have something they can finally be proud of after many troubled years?
Summer 1993
Ulster Adventure Park opens on the 7th July 1993 and despite some rumours saying that the park could be a white elephant, public reactions have been nothing sort of praise, mainly for Jimmy O'Neil who many are now treating like a conquering hero for how this park could transform the image of Northern Ireland. It is hoped that the park can get at least 43,000 visitors in it's first year of operation and if so, future projects can be undertaken. Here are some sorts from the first shots from the first few days after opening.
SOU proves to be a very popular ride for many.
The car park, not many cars here as the park is yet to open here.
Finally, a shot of SOU is action with a full train. As the old saying goes, the only way is up!
So there you are, what'd you think? Please tell me what you thought of the park and any any ideas what I could add to the park, plus even story lines to tell the story of the park right up to 2014. So until then, I'll catch you with the next update for 1994.