Concert Corner
Posted: Wed Feb 07, 2018 7:52 pm
So Concert Corner is for all you concert related needs. From announcements to reviews, help and advice to the latest speculation. Anything to do with music gigs are welcome.
I thought i would start off with a review from last year when i saw A Day To Remember performing at the Leeds First Direct Arena on January 28th.
A Day To Remember - Bad Vibes UK Tour 2017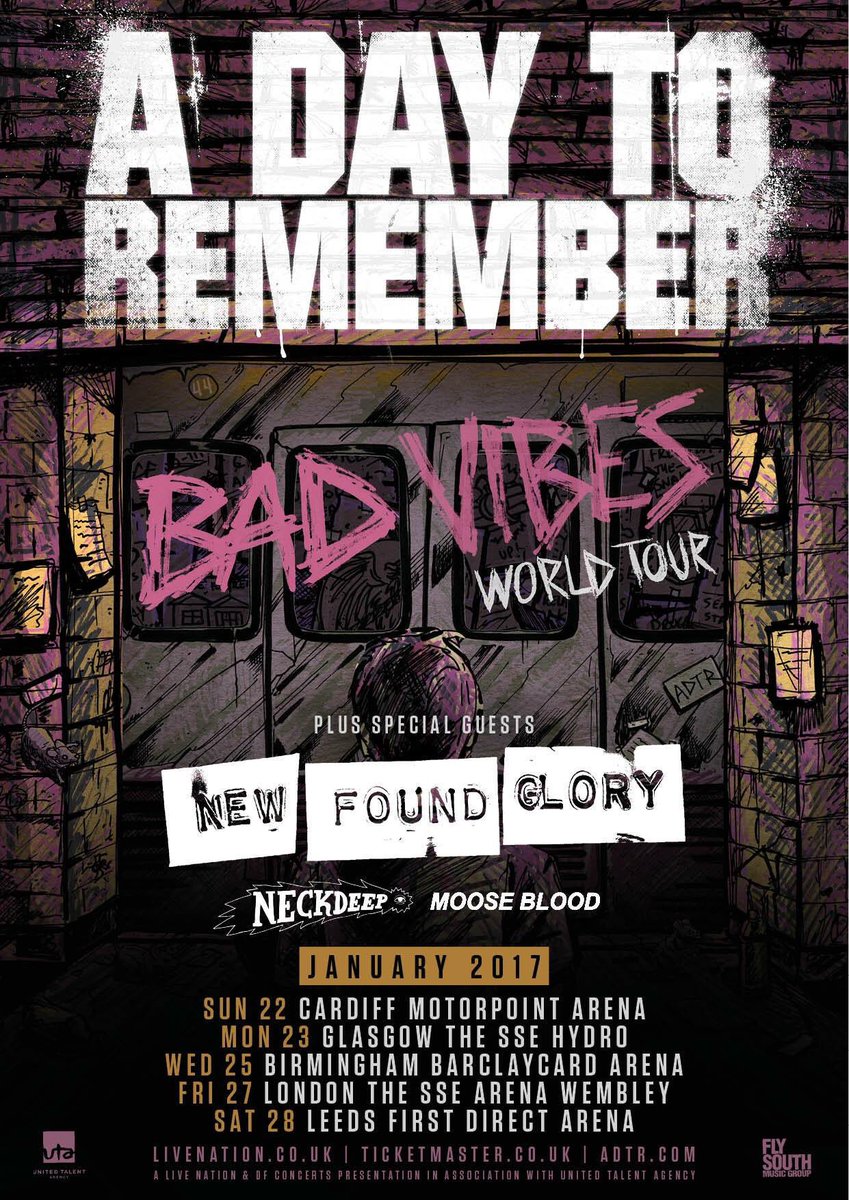 I had previous seen ADTR on their Birmingham date of their tour but i'll be reviewing their set in Leeds. The first ever headline arena tour by the band, ADTR were promoting their latest record "Bad Vibrations" with their UK leg of the tour. The show was energetic, keeping with their high paced songs to create a show that pleased old fans and new ones alike. From performing "paranoia" off the new album, to throwing it back to "The Plot to Bomb the Panhandle" off their first record, this show had a lot of variety to please everyone. I thought the set list was very well created, i was disappointed with the lack of songs from Common Courtesy (my favourite album by the band) but they still featured a song from the album in the show. Air cannons, strobe lights, backing screens showing videos of the crowd/music videos. It was well staged and had a lot to keep people entertained (even with the odd flood of inflatable pool floats). I thoroughly enjoyed the concert, it was one of my favourites from last year and still ranks high in my top 10 concerts of all time.
Support came from 2 other UK bands, Moose Blood & Neck Deep. They both performed well and had a decent selection of songs on offer keeping with the pop punk vibe of the night. Main support came from Pop Punk legends New Found Glory, celebrating 20 years of making music. Again a decent set from the band and making the show their own in the arena.
Only a brief review of the night, below are photos from the night of ADTR's set and their set list in full.
Mr. Highway's Thinking About the End
Paranoia
2nd Sucks
Right Back at It Again
I'm Made of Wax, Larry, What Are You Made Of?
It's Complicated
Fast Forward to 2012
We Got This
Bad Vibrations
My Life for Hire
Exposed
Have Faith in Me
Justified
Homesick
Naivety
All I Want
The Plot to Bomb the Panhandle
Encore:
If It Means a Lot to You
All Signs Point to Lauderdale
The Downfall of Us All